There are thousands upon thousands of books published each year. Only a small percentage of those make it to the best-seller list. That doesn't mean that the rest aren't worthy of reading. It may be that they are written by self-published authors who don't have the marketing knowledge or a small independent publisher who doesn't have the marketing budget to spread the word. Even the larger publishing houses have a limited marketing and publicity budget so can't promote all the novels they publish to an equal degree.
So in each post I'll aim to highlight a couple of titles that may have been missed from your reading awareness. Hopefully you'll discover a treat or two. And please do let me know if you have any books you'd like to suggest.
The first choice this time comes from Nell Pattison. Her latest novel, Hide, was published by Avon on 9 December 2021.
She chose City of Vengeance by D. V. Bishop, published by Pan on 6 January 2022.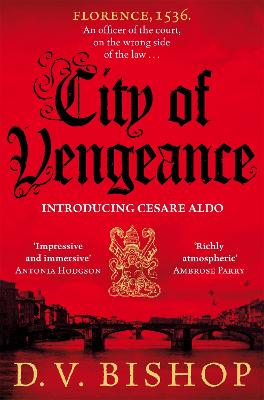 Florence. Winter, 1536. A prominent Jewish moneylender is murdered in his home, a death with wide implications in a city powered by immense wealth.
Cesare Aldo, a former soldier and now an officer of the Renaissance city's most feared criminal court, is given four days to solve the murder: catch the killer before the feast of Epiphany – or suffer the consequences.
During his investigations Aldo uncovers a plot to overthrow the volatile ruler of Florence, Alessandro de' Medici. If the Duke falls, it will endanger the whole city. But a rival officer of the court is determined to expose details about Aldo's private life that could lead to his ruin. Can Aldo stop the conspiracy before anyone else dies, or will his own secrets destroy him first?
Here's what she had to say:
"I read a lot of crime but I don't tend to read much historical fiction, because it's usually not for me, but I absolutely loved this book. Set in 16th Century Florence, it follows an officer called Cesare Aldo in his attempts to work against the corruption that's rife in the city, in order to solve a murder. It's tightly plotted with some brilliantly-penned characters, some of whom you'll love to hate, and the second one in the series is out in March 2022."
The second suggestion comes from Robert Lloyd. His novel, The Bloodless Boy, was published by Melville House on 4 November 2021.
He chose Lemprière's Dictionary by Lawrence Norfolk, published by Vintage on 2 July 1992.
As the seventeenth century opens, a band of venturers forms the Honourable Company of Merchants trading from England to the East Indies. In France, the siege of La Rochelle ends with the massacre of thirty thousand men, women and children. Almost two centuries later, in 1788, John Lemprière published his classical dictionary. This much is fact. Lawrence Norfolk tells us how the first two events led, inescapably, to the third.
This amazing tale encompasses the Great Voyages of Discovery and multinational financial conspiracies, and leads a motley cast of scholars and eccentrics, drunk aristocrats and whores, assassins and octogenarian pirates through two centuries and three continents to the brink of French Revolution.
John Lemprière reluctantly enters this world as an introverted scholar, obsessed by the myths of antiquity. At the end of this astonishing story he understands that it takes far more than learning to lay the ghosts of the past to rest.
Here's what he had to say:
"One of the books that inspired me to start The Bloodless Boy is Lemprière's Dictionary by Lawrence Norfolk. It's a book I've often returned to, being exuberantly written, exciting, frequently very funny, and just the sort of book I want(ed) to write."
So there we have it, two more books that may have passed you by. I have to admit, City of Vengeance is already was already on my shopping list but Lemprière's Dictionary had passed me by. Have you read either of them? Do you have a quiet novel you'd like to shout about? Do let me know.